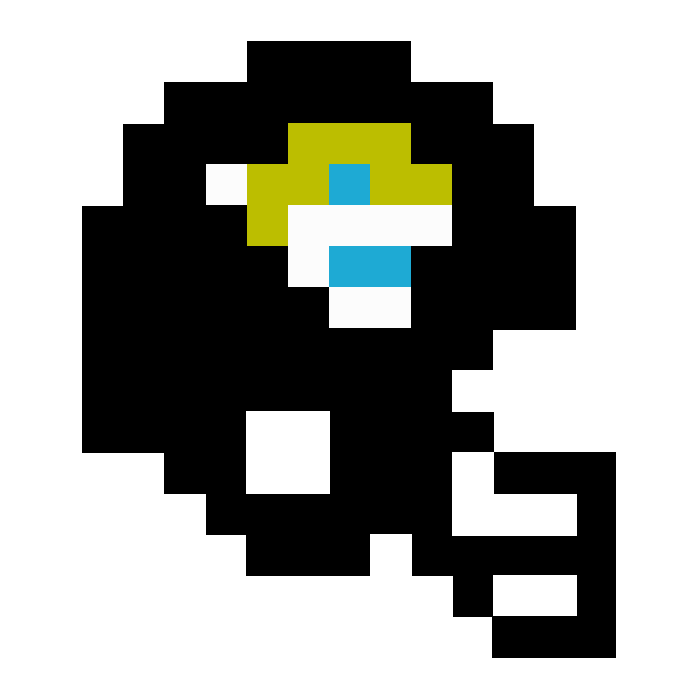 I know what you're thinking: why would a reputable, respected, and frankly culturally dominant organization such as Luck Nunu Sports do a season preview on the Jaguars of all teams? Let me give you 1 reason: Urban Meyer. Those of you who have read our stories over the years know that I'm a Florida guy and Urban Meyer brought Florida 2 national titles. I also have a soft spot for teal. Also they have some interesting players.
You know what? I don't need to justify myself to you! You don't even have the sense to write your own terrible sports stories!
The Jags have been bad since their suffocating defense took them 1 quarter away from going to the Super Bowl in 2017 to face the Eagles (I think they would've won, for what it's worth). They followed that up with a 5-11 season, then 6-10, and finally settling in at a cool 1-15 last year. I don't think they were quite as bad as their record suggests, but I think they're closer to that 1-15 than they are to 10-6. Maybe. Let's see!
Week 1 - @ Houston Texans. Houston is breaking in a new coach David Culley. He has never been a head coach in his entire career up to this point. I suppose there's some hope of that working in his favor, but I doubt it. This game will be an immediate gut check for the Jags as the Texans are likely going to have a porous defense. But you know what, I think the Texans win this one. 34-28 Texans
Week 2 - Denver Broncos. Denver is in a weird state with their coach where they really need to win, but I don't think they have the horses -- do you get it??? -- to pull it off. This is the swan song for head coach Vic Fangio until he heads back into the shadows as a defensive coordinator (which he is great at, by the way). I think an early trip to Jacksonville is going to be pretty rough on the humidity-free Broncos. 24-21 Jaguars
Week 3 - Arizona Cardinals. The Cardinals are pretty good in the early season and I think this is a bad matchup for the Jags. I expect the Cards to knock out 3-5 sacks. 41-17 Cardinals
Week 4 - @ Cincinnati Bengals. The Bengals are a weird team that has some talent to win (and excellent uniforms), but their coaching doesn't seem great. They're still a better team than Jacksonville. 38-28 Bengals
Week 5 - Tennessee Titans. The Clog is coming and there's nothing the Jags can do to stop it. The Titans have a middling defense though, so this is going to be close. Maybe. 24-20 Titans
Week 6 - Miami Dolphins. Year Tua. HEHEHEHAUEHEUH. Great jokes here. The Dolphins defense is good and will give the Jags some real troubles. They're playing in England, which means it will be sloppy because of how early it will be in the states. 13-10 Jaguars
Week 7 - BYE.
Week 8 - @ Seattle Seahawks. We finally get the Florida-USC matchup we wanted. Uhh, sorta. In this game, Pete Carroll has a huge advantage on talent. The QB position alone is skewed heavily in favor of Seattle. This is a long trip for the Jags even with the bye week reset coming from England. 34-10 Seahawks
Week 9 - Buffalo Bills. The Bills set a franchise record for points scored last year and I don't expect that to change much this year. 42-23 Bills
Week 10 - @ Indianapolis Colts. Who knows if Wentz will still be playing at this point in the season. I'd put money on no. But it won't matter. Indianapolis is a better team. 20-14 Colts
Week 11 - SF 49ers. The Jaguars get no breaks by playing the NFC West. The 49ers are going to be better this year, possibly top tier. 33-7 49ers
Week 12 - Atlanta Falcons. I know I've mentioned how much of a disaster the Falcons will be already, but I don't think they're going to be so bad as to lose to the Jags do I? I do. 23-21 Jaguars
Week 13 - @ LA Rams. Aaron Donald + Trevor Lawrence = Loss. 27-3 Rams
Week 14 - @ Tennessee Titans. Get your brooms out 🧹. 21-6 Titans
Week 15 - Houston Texans. A rematch where the visiting team takes it home. 26-21 Jaguars
Week 16 - @ NY Jets. A battle of rookie QBs and rookie HCs. The Jets feel like a better team overall, but I don't know if they are. This is going to be a turnover special. 23-14 Jets
Week 17 - @ NE Patriots. The Patriots are generally known for being a tough defense. In neutral conditions, the Pats have a huge edge. In Foxboro in January? Ha. 20-6 Patriots
Week 18 - Indianapolis Colts. Final weekend divisional game. I don't see this going very well, to be honest. The Colts are likely playing for playoff seeding and the Jaguars are just hoping Urban Meyer doesn't disappear with mysterious health issues. 30-15 Colts
TOTALLY ACCURATE PREDICTION: 4-13. It's progress. But it's also not what Urban Meyer is used to. At what point does he Saban his way back to college?
OPTIMISTIC OUTLOOK: They beat the Jets and sweep the Texans. 6-11
BUT ON THE OTHER HAND..: The Jags are breaking in a rookie quarterback with a rookie head coach. Their roster is not very good. They could easily get swept by the Texans and lose to Miami in London. The Broncos defense could suffocate the Jags. 1-16
Hey, at least you'll have the AEW.