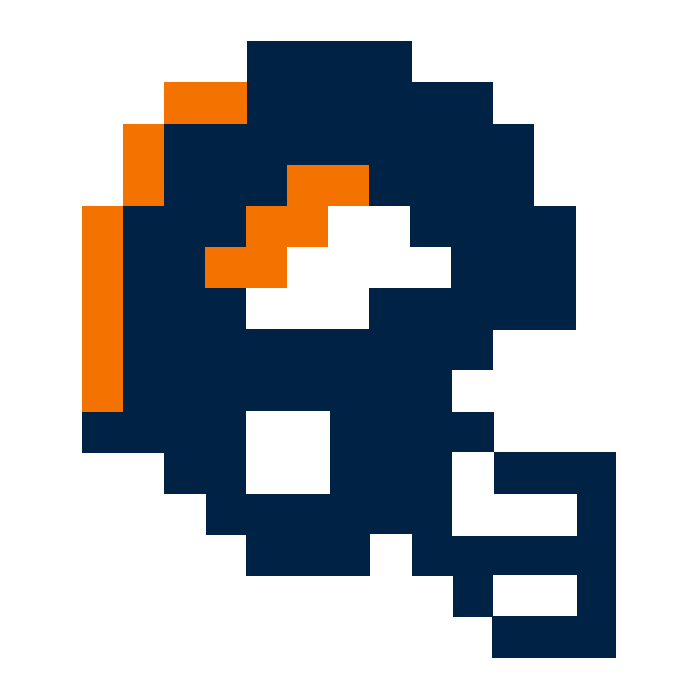 Ah, my childhood team. The mighty Denver Broncos. Remember when they were orange and light blue? And how they looked amazing? And they lost Super Bowls by 45 points? They still lose Super Bowls pretty big sometimes, but they also win them. They didn't do that when I was a fan. I bailed on them when they changed into a giant Nike ad with a weird muscular horse logo and they immediately won 2 Super Bowls. This is my life.
But you know what? They're just as bad as my Bears these days. Maybe that's because they took the defensive coordinator of those same Bears and made him a head coach? Hmm, that's probably not it. Maybe it's the consistent lack of a good starting QB. Yeah, that's probably more the problem. Speaking of, the Broncos announced Teddy Bridgewater as their starter for this year today. I guess that's ok if you're looking to go mediocre. Maybe that works for Vic Fangio to keep his job, but it's not going to make any fans happy.
Now that we know their starter, let's see what we can expect from this team that still sports a uniform that was weird looking even in 1997.
Week 1 - @ NY Giants. I've said this before - the Giants are my weird Super Bowl pick for this year. But I don't know if I believe it. Let's start them off on the right foot by beating the Broncos in week 1! 17-10 Giants
Week 2 - @ Jacksonville Jaguars. I've already talked about the Jaguars and in fact already picked this game! May as well stay consistent. 24-21 Jaguars
Week 3 - NY Jets. I did this one, too! 17-6 Jets
Week 4 - Baltimore Ravens. The Broncos are sitting at 0-3 and facing the likely division winners of the AFC North. Can they correct course here and get a win‽ 23-7 Ravens
Week 5 - @ Pittsburgh Steelers. From one AFC North team to another, but this one can't run the ball. 16-14 Broncos
Week 6 - LV Raiders. We've got a divisional battle! The Raiders swept this series last year, in one case totally dominating the Broncos. I don't see this going very differently this year. 30-14 Raiders
Week 7 - @ Cleveland Browns. This isn't the 80s and it's certainly not the AFC Championship, so Cleveland wins this. 18-13 Browns
Week 8 - Washington Football Team. Two teams with solid defense and mediocre offense. 13-6 WFT
Week 9 - @ Dallas Cowboys. Now you're talking about a good offense with a poor defense. At least I think it's a poor defense. It's hard to tell this early, but they were bad last year. 23-21 Broncos
Week 10 - Philadelphia Eagles. E-A-G-L-E-S EAGLES! I kid. The Eagles are going to be terrible. 27-6 Broncos
Week 11 - BYE
Week 12 - LA Chargers. Both games last year were really tight. They split last year and I expect it again this year. 24-21 Broncos
Week 13 - @ KC Chiefs. More HOT DIVISION ACTION. Game 1 last year was a blowout while Game 2 was closer. I think blowout is more likely. 33-13 Chiefs
Week 14 - Detroit Lions. Dome team that eats knee caps coming to Mile High in December. Hmmm. 30-10 Broncos
Week 15 - Cincinnati Bengals. I think the Bengals are going to be better this year, but they're still filled with question marks for me. They win the uniform battle, but on the field? 26-21 Broncos
Week 16 - @ LV Raiders. This game will be closer, but I think the Raiders might be a playoff team this year. Sorry, horsies. 27-20 Raiders
Week 17 - @ LA Chargers. Playing in LA should give the Chargers the edge they need. 19-12 Chargers
Week 18 - KC Chiefs. The Chiefs are absolutely resting starters for this game, which means the Broncos get a freebie and feel good about how they ended the season. But they shouldn't. 20-9 Broncos
TOTALLY ACCURATE PREDICTION: 7-10. That's not really enough to keep Fangio if I'm the owner. The Broncos are shockingly uninteresting.
OPTIMISTIC OUTLOOK: They beat the Jets, Jags, and Giants for a nice 10-7 record.
BUT ON THE OTHER HAND..: Things go poorly in division and they get swept by the Chargers and Chiefs. Somehow the Steelers ride Roto's burger fist to victory. 4-13. This could really happen..
But Dan Orlovsky seems to disagree.