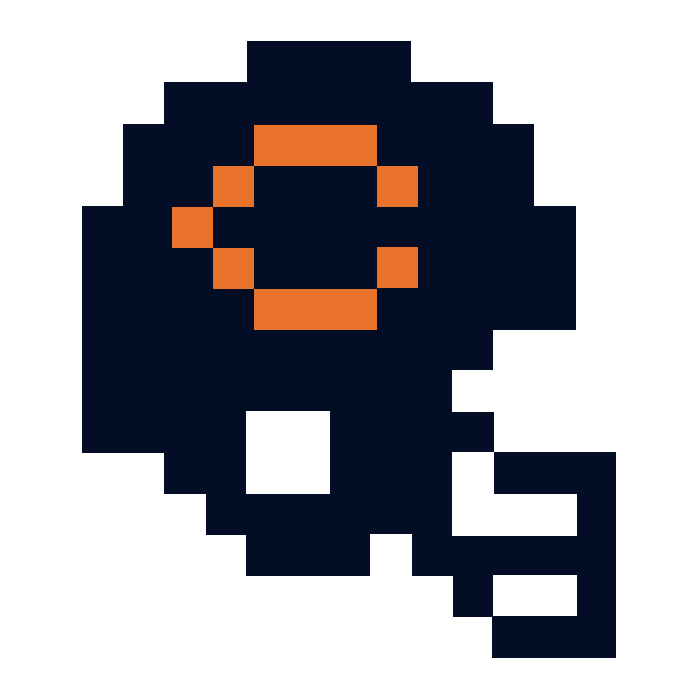 Da Bears. You know 'em, you probably don't love 'em. That's fine, they're my favorite team and I hate them. The only thing worse than the Bears is their fanbase. It's a truly delusional fanbase that is nearly always way too high to start the season only to come crashing down by, eh, week 8. Even when the Bears make the playoffs, it's a sham. They made the Super Bowl with Rex Manning. Wait, Rex Grossman? HAPPY REX MANNING DAY!
Last year's record was 8-8. A perfectly non-existent season. They somehow stumbled into that newest playoff spot only the be bounced by the Saints. It was an awful game to cap off a pointless season. Somehow Trubisky was the only casualty this offseason, but the Bears decided to keep Nagy and Pace. At least they picked up .. Andy Dalton in the offseason. Then they drafted Justin Fields from Ohio State immediately after declaring Dalton the starter. Makes sense. The front office and coach are a disaster.
You know what this means for this year though? Not a whole lot. There are 17 games this year, which means they can't go 8-8 again. 8-9 here we come! Let's see how it happens.
Week 1 - @ LA Rams. The Rams are a better team all-around. Add in Dalton breaking himself into the lineup and I think this one is a pretty grim one. 27-9 Rams
Week 2 - Cincinnati Bengals. Last season was terrible for the Bengals. I don't expect them to make too many leaps forward, even with Joe Burrow coming back from his injury. It'll still be close though, because the Bears can't score. 17-14 Bears
Week 3 - @ Cleveland Browns. The Browns were a surprise last year, but won't surprise anyone this year. Except the Bears. They're going to make this defense make you think of the Trestman years. 33-10 Browns
Week 4 - Detroit Lions. New coach for the Lions. New QB for the Lions. But for some reason the Bears always struggle with them. It's a divisional game, so it's really a game the Bears need to win. Since it's at home, I think that will happen. Barely. 20-16 Bears
Week 5 - @ LV Raiders. If I'm being honest, I have no idea what to expect from the Raiders. I think they're better coached at the very least. I'm not sure they have much more talent, but they will probably win because they're home. It'll be pretty close. 24-21 Raiders
Week 6 - GB Packers. I don't even want to watch this game. Rodgers is back to torch the secondary. Their defense will force 3 turnovers. 41-10 Packers
Week 7 - @ TB Buccaneers. Oh good, the defending Super Bowl champs. In their home stadium. Great. I would say the Bucs will take a step back, but it still won't matter against the Bears. It'll be pretty close, but don't count on Brady forgetting what down it is again. 21-14 Bucs
Week 8 - SF 49ers. The 49ers had a plague of injuries last year. Unless that happens again, this could be a really grim result. I think this is a bounce back year for the 49ers, while the Bears are just holding out to fire Nagy. 31-24 49ers
Week 9 - @ Pittsburgh Steelers. At first I thought, hmm, the Bears could rob this game. But then I saw it's a Monday night game. I don't see it happening. But the Pittsburgh offense is going to be bad, so it will probably be a big turnover type of game with a few stupid scores. 13-9 Steelers
Week 10 - BYE
Week 11 - Baltimore Ravens. The AFC North is not a great draw this year. I don't think Baltimore will be nearly as easy to play as Pittsburgh, but the bye week probably keeps it close for a few quarters. 34-16 Ravens
Week 12 - @ Detroit Lions. This is a make or break game for Nagy. If the Bears lose this, he's out as coach. They can't keep him with 9 losses can they? I guess they could. But I think they sweep the Lions somehow anyway. 34-24 Bears
Week 13 - Arizona Cardinals. A December game in Chicago for a team from Arizona? A team that has shown they crumble down the stretch? I think this is going to be a funny game where Chicago looks awful but somehow wins anyway. 17-14 Bears
Week 14 - @ GB Packers. Oh god, why. The Packers are going to be priming themselves for the playoffs and the Bears will be fighting to hit that sweet 9-8 mark. Spoiler, they won't do it. 37-13 Packers
Week 15 - Minnesota Vikings. If there's one team who can compete with stupid losses with the Bears, it's the Vikings. This team is going to be worse than last year. Covid Cousins won't be able to continue all season, and since I think the Vikings are largely done with him after this year anyway, I'm not sure he'll even play this game. 26-13 Bears
Week 16 - @ Seattle Seahawks. The Seahawks are going to be in the playoff hunt. They also have a far better coach and QB. Their defense is a bit shaky at times, but who on the Bears is going to really challenge them? 17-3 Seahawks
Week 17 - New York Giants. Hey, my Super Bowl pick! Guess what, they're going down! 24-16 Bears
Week 18 - @ Minnesota Vikings. I already told you that the Vikings lose games as often as the Bears and for just as stupid reasons. But seeing as this will be some sort of lasting impression for Nagy, I think they somehow come out of this with a win. 33-30 Bears
TOTALLY ACCURATE PREDICTION: 7-10. Yeah, that sounds about right.
OPTIMISTIC OUTLOOK: They take the Steelers and Raiders games and finish it out 9-8.
BUT ON THE OTHER HAND..: They could drop both Vikings games and split with the Lions. It's also possible the Cardinals are better this year and take that game. That would put the Bears at a cool 3-14. At least Nagy would be doomed..