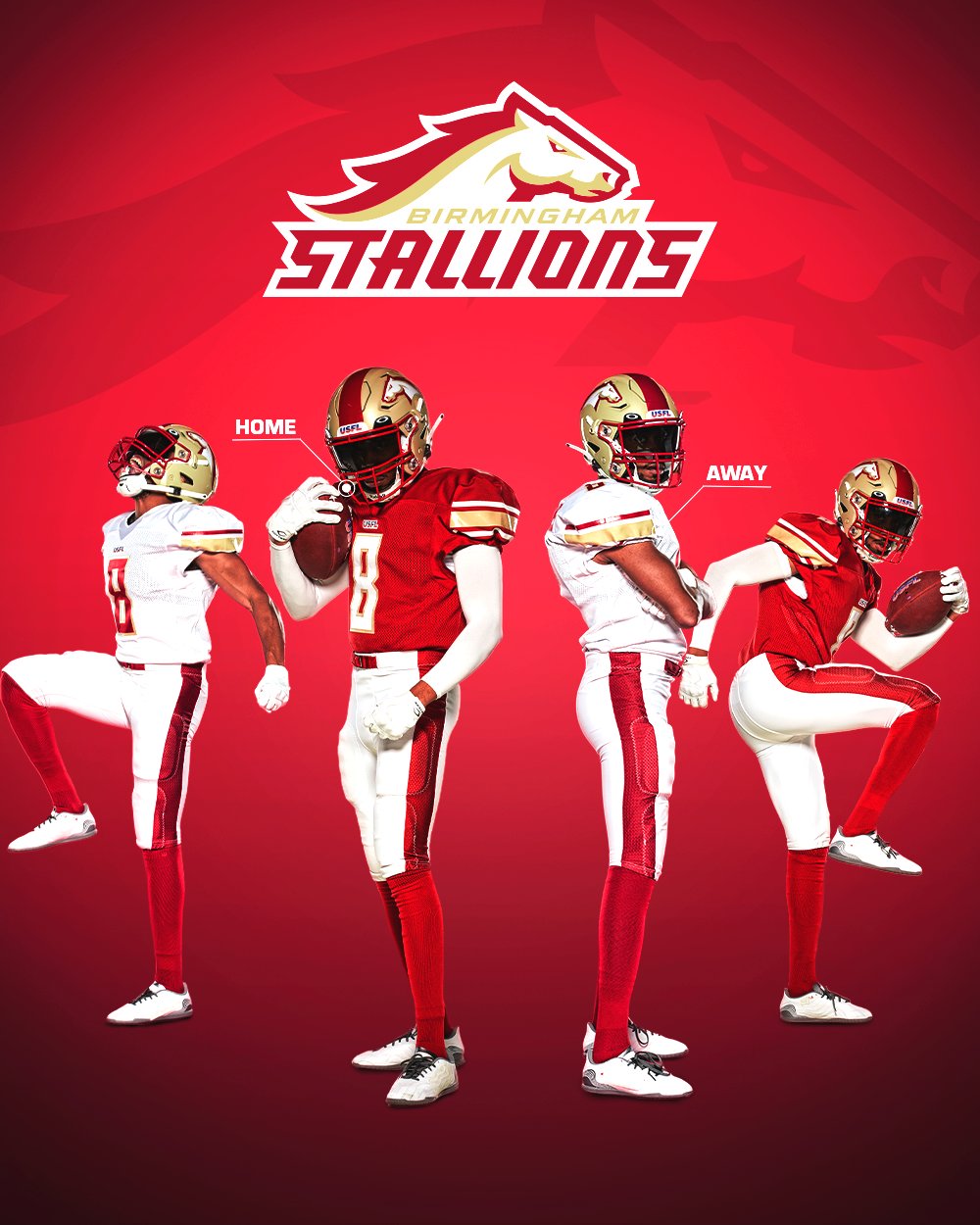 We've officially hit the halfway point of this inaugural season and it's time for some harsh realities and terrible predictions! Going into the season, I had ranked the teams in my order of preference before seeing them on the field. Now that I've seen them play, I'll give them a more reasonable review and give some power rankings at the end.
The USFL - How Is It?
The league has some former spring league stars you may recognize like Jordan Ta'amu and Luis Perez. It also has some teams you may remember from the 80s version of the USFL. And on top of those things, it has pretty solid broadcast agreements - games are on Fox, FS1, NBC, and Peacock.
All of that makes you think this is going to be a hit. As much of a hit a spring football league can conceivably be, right? I mean, for a developmental league. Ratings-wise, it's doing fine. And they're saving money by having everyone hang out in Birmingham all season. That's smart! They should be around for another year. But will anyone care?
Play Quality
Let me be very clear: I understand that this is a developmental league and I don't expect greatness. But let's also be honest here: the league started with minimal practice time and some pretty sketchy coaching hires. With players who are good college players at worst, roster filler NFL players at best, you expect a decent amount of quality from the games themselves. But man, it's been tough at times. Quarterback play has been spotty at best. It's clear that the lack of a true offseason has hurt the offenses on all teams, but no quarterback has stood out as being even practice squad worthy. Some of that is due to coaching for sure, but even guys who were studs in other spring leagues are struggling this go-round.
With quarterbacks struggling, you know that the entire offense will struggle. But the defenses aren't playing that great, either. We're talking about middling defense at best that is stifling some pretty awful offense in most of these games. There have been tons of plays there if the offense could make them, but with the ineptitude on full display, these are mostly blown opportunities.
Parity
There are only eight teams in the USFL, but two are head and shoulders above the rest. You have the Birmingham Stallions in the South and the New Jersey Generals in the North. That's about it. To be fair to the South, they have three of the best four teams in the league. New Orleans and Tampa Bay aren't that far out of it and it's highly possible that Birmingham stumbles down the stretch. But the North? It's not even close. New Jersey is so far out in front they don't even appear to be in the same race.
Interestingly, Michigan has a positive point differential, yet only has a 1-4 record. How is that possible? Jeff Fisher? Probably doesn't help. Their quarterback play has been the most confusing. There's a ton of potential there, but they can't figure out how to put it together. Philadelphia can only throw the ball and stop the pass (to a degree). Running? Forget it. I don't think they practice it on either side of the ball. Pittsburgh is an affront to anyone who enjoys football. That team is flat out bad.
On the plus side, we don't have any winless teams. We do have three teams with only one victory, but the problem there is that their one victory came over each other. Yeah, not great. This feels like we're heading toward Birmingham vs New Jersey in a rematch of Week 1. If that's the final we get, I'm not going to be disappointed. Their first game was great and was won in the last seconds of the game.
So ... About Those Teams
If you want a refresher, take a look at my pre-season ratings based on looks alone. We're going to take those and give them a little "I've seen them play, now what?" feeling. It's tough to rate things on pictures alone.
#1 Michigan Panthers
I gave these guys the #1 slot in my ratings because they have great, classic uniforms. I still stand by this. They are glorious looking uniforms. The on-field product has been a total dud, but they look great while they're out there sucking it up.
#2 New Jersey Generals
These guys were my #3 team, so they've moved up one spot. There's something both generic and simultaneously awesome about the Generals look. I really like it on-field. They've played as well as or better than Birmingham this season, too.
#3 Philadelphia Stars
What a move these guys have made. From the basement to #3. Pretty crazy how my opinion on these uniforms flip-flopped after watching them for a while. Don't get me wrong, red and yellow is still a hideous combination, but it somehow works for me. The Stars can be fun to watch at times, though they struggle to win against anyone decent.
#4 Birmingham Stallions
We're sliding these chuckleheads up a spot. The uniforms are pretty sharp. I wish the gold were more gold than sand, though. On-field, they've been the best. I've been impressed with the whole team. They have the most stars of the league with Scooby Wright, CJ Marable, DeMarquis Gates, and J'Mar Smith. Hell, even Alex "Mister" McGough has looked good as a .. backup? quarterback.
#5 Tampa Bay Bandits
I thought the difference between their old and new uniforms would bump them up enough, but I still see too much Ohio State when I watch this team. That alone puts them in the bottom half. On-field they have been hit or miss. This team has a winning record, yet is -15 in point differential. What?
#6 Houston Gamblers
They've dropped two spots for me, but I think it's more that other teams were surprisingly interesting to watch in comparison. Their on-field product is borderline unwatchable at times. Who could've foreseen Kevin Sumlin being a terrible coach...?
#7 New Orleans Breakers
I want to like New Orleans, but they've botched their execution so badly you'd swear they're a bottom feeder USFL team. Somehow they're not. They are 3-2 with a better point differential than Tampa. This team can SCORE! Sometimes. League hawties New Jersey and Birmingham both shut down the Breakers fast-paced offense. They need some tweaks, just like their uniforms.
#8 Pittsburgh Maulers
They're somehow worse than the pictures. I hate them. But on the plus side, I also hate watching them play. They're the worst team in this league despite recently beating Houston. I refuse to believe Houston loses that game if they played it again. Kirby Wilson is not a head coach. Period. He's supposed to be offensive-minded and their offense is an abomination.
Power Rankings
The above ratings are my personal view on how they look, not on how they play. If you want something of substance, you're reading the wrong site, friend. But I'll throw you a bone here and give you power rankings.
#1 Birmingham Stallions
As much as I don't want to put them on the top spot due to my own personal feelings toward them, they've beaten everyone they've played so far. They have the best, most consistent offensive play of any team, and their defense has been able to stop everyone to an extent.
#2 New Jersey Generals
New Jersey goofed around a bit too much with their dual-quarterback system, but now that they've settled into De'Andre Johnson at QB, they're a well-oiled machine. This team runs on everyone and can stop the run. That's winning football, friend. I like their chances in a rematch against Birmingham, especially since it won't be played in Birmingham's backyard.
#3 New Orleans Breakers
Sometimes Sloter looks like he could be an NFL backup. Other times he looks like he couldn't be an FCS backup. The lack of consistent play and his tendency to throw terrible interceptions have really hurt the Breakers from being a more interesting team. They're not out of it by any means, but they have a lot to clean up before they can be taken seriously.
#4 Tampa Bay Bandits
Tampa has arguably the best QB coming into the league in Jordan Ta'amu, but he hasn't played that well. In the first few weeks, it looked like Todd Haley had really changed from his old yeller days, but he's popped out some angry pregnant man sideline tantrums in the last couple weeks. They need to fix their defense and figure out how to get that offense rolling. Time is running out for them to make a move.
#5 Philadelphia Stars
If the Stars could run the ball or stop it even a little bit, they'd be a dangerous team. Their passing game is probably the best of all teams. Bryan Scott can get hot during the game and throw some real darts, but when they need to run, they can't do it. There are times when they're leading and end up blowing it because teams know they can't run, stop their pass, and they end up taking no time off the clock.
#6 Michigan Panthers
The only 1-4 team with a positive point differential. The only losing team with a positive point differential! Even a 3-2 team is worse with that. Michigan's defense is pretty stout and hard to beat, but their offense is the opposite of that. Self-destructive and inconsistent, the one thing you can count on when you're playing Michigan is that they're going to botch something on offense that will really screw them.
#7 Houston Gamblers
Sure, they just lost to our #8 team Pittsburgh, but I think if they play that game 10 times, Houston wins.. maybe 6 of them. Houston seems better than their record. It's hard for me to believe they're 1-4 given how they play at times, but that's the magic of terrible coaching.
#8 Pittsburgh Maulers
Pittsburgh is the hardest team to watch in the entire league. They need a coaching shakeup next year or this team is going to fold. There isn't any one aspect of the team you can point to and say "we can build on this." They're objectively bad in all phases and were lucky to win last week against Houston. I thought they'd go all-defeated this year, so I'm sticking on that theme and saying they'll go 1-7.
Final Remarks
Given some of my harsh criticisms of the teams in this league and the league itself, you may think I am not a fan. AU CONTRAIRE, I quite enjoy watching it because even bad football is better than no football. This has been an interesting season so far, and given the "playoffs" are really just a championship game against the two division winners, this season already feels like it's over. We are just waiting another month and a half for Birmingham to play New Jersey again. For New Jersey to get their run game going all over the Stallions and win by 10, redeeming their first week loss. Or maybe Michigan will turn it around and finish 6-4 to play for the championship. Uhh...
If you haven't watched any games, check it out. But make sure it's two decent teams. Do not watch a Pittsburgh game. Save yourself the headache of Michigan while you're at it. Houston sucks, but at least they're entertaining at times. Everyone else is fine and can be fun to watch, even if the teams aren't very good.
The league would benefit from playing in other stadiums next year and shifting some coaches around. Sumlin and Wilson need to go. Fisher needs to go. He can't even get to 7-9 bullshit. I'm ok with the other coaches and will be excited to see A) if the league goes again next year and B) if it does, how will the teams benefit from a true off-season?
Listen, this isn't the NFL, nor is it even college ball. The quality of play is spotty as hell, but it's football in the spring. If you love football, you're probably happy it exists.