Arizona State @ #15 California
Cal is a weird team. They struggled with an FCS opponent to start the season, then went out and (barely) beat Washington AT Washington. Then they stumbled past North Texas by 6 before winning (somewhat controversially) at Ole Miss last week by 8. Give them credit, they're undefeated. But it feels like it's a disaster waiting to happen. They have a strong defense, and given the defensive background of their head coach, this makes sense. Their offense is pretty bad, though. They're ranked 175th in college football in total yards per game. 175th! That's crazy.
On the other hand, we have Arizona State, a possibly equally weird team. They're also a defensive-minded team, holding their first 3 opponents (including Michigan State) to 7 points a piece. But then something happened last week when they played a middling Colorado team: they gave up 34 and lost by 3. I suppose the Michigan State game was intense, but they shouldn't follow that type of game up with a huge letdown like that against Colorado.
So here we have two defensive teams playing at night on a Friday night. I honestly don't even know what will happen here. It could just as easily be a 41-38 game as it could be a 10-7 game. If both teams play as well defensively as they are capable, it's going to be the latter. The Pac 12 makes no sense and I can't get a real read on these teams.
Arizona State 13 - Cal 6
#21 USC @ #17 Washington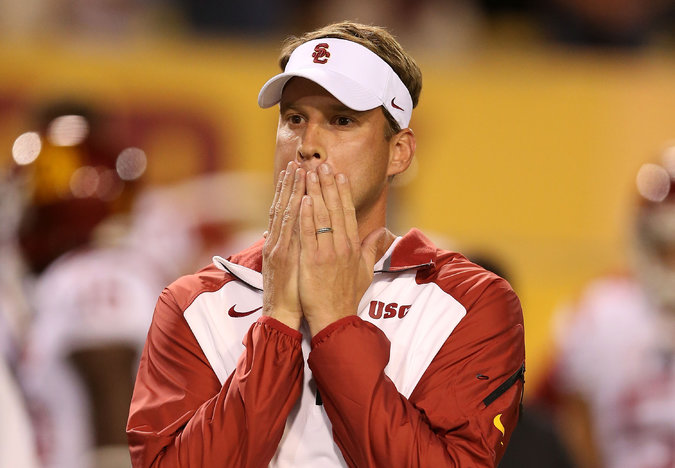 Oh boy, how about another set of weird teams. SOUNDS GREAT!
USC lost to BYU in overtime. They're on their third string QB. They also beat Utah last week. You're thinking "what?" That's the right response. Clay Helton is fighting for his job with a backup of a backup at QB and they're still playing pretty well. But they also are not. They're Schrodinger's Team. They are simultaneously terrible and awesome. But more than that, they're playing on the road for only the second time this year. The first road game was @BYU and we know how that turned out.
Washington shouldn't lose to Cal. I know that Cal's coach used to be a defensive coordinator there, but it shouldn't matter. Washington has better players than Cal. It theoretically has better coaches. Washington made the playoffs. Cal can barely make bowl games. Based on a common opponent (BYU), Washington should thrash USC. Based on my own GUT INSTINCTS, Washington should beat USC. But that doesn't mean they will. My hope is that both teams meet again in the Pac 12 title game, but we'll see how it all shakes out. I want a Pac 12 team in the playoffs again.
Washington 31 - USC 27
FRAUD ALERT: #18 Virginia @ #10 Notre Dame
Notre Dame couldn't handle Georgia. They did for half of the game, but then things started to fall apart. Still, they lasted throughout the entire game and kept it close. I think they're a really good team, but probably not title contenders at this point. The thing I'm most curious to see is if they let Georgia beat them twice in a row here against a Virginia squad that I have been thoroughly unimpressed by.
I saw FSU @ Virginia in person. UVA makes dumb mistakes and really is not very good on offense. Their defense is pretty decent, but still kept FSU in that game the whole time, particularly with really stupid penalties on the final drive.
Notre Dame has the home field advantage here, and I also think they should have some confidence in playing Georgia so tight in a hostile road game last week. The only question in my mind is do they blow Virginia out like they should or do they let last week linger a little too long and keep it close? I think they should be able to put it behind them as a moral victory of sorts. I hope they do. I am really sick of hearing about UVA.
Notre Dame 24 - Virginia 10