The NFL is SO over. It's time to move on to the real event of the year: spring football via the USFL (part deux)! Sure, these teams existed once in the past before, but now they're back 30 years later with new coaches and a new twist on their logos and uniforms. Plus they all have new coaches. If we're going to figure out which team(s) to root for, we have to rank them somehow!
Scoring
Power rank will be calculated by totaling the team's points for each category. There are eight teams, but we're ranking these on a scale of 1-10. The highest score means that's the team to root for! The categories are as follows:
Coach - Most points for the best coach or most potential coming in. Who knows how these teams will play, but we can at least give them some points for a known commodity.
Name - How cool is the name? Probably not very cool.
Colors - It's important to pick a team that you can wear their gear without looking like a fool. Some uniforms can look great on the field, but if you're wearing that stuff outside of the event, you look like some sort of Harlequin.
Uniforms - How does it all come together on the field? I mean, aside from their play. This is about LOOKS. We're superficial here.
Retro-future - How well did you handle an old brand and bring it into the new era?
New Orleans Breakers
Coach - Larry Fedora
Another failed college coach, but this one may have the least impressive resume yet. Aside from two outlier years, one at UNC and one at Southern Miss, Fedora's coaching career is mired in mediocrity. Maybe not even mediocrity.. Slightly bad. Will the lack of recruiting help him focus on the Xs and Os?
Score - 3
Name - Breakers
It's an interesting name for sure. Is it cool? Not particularly, but it's not bad either!
Score - 7
Colors - Breaker Blue, Royal Blue, Silver
If you like blue, you're in luck. This is a nice combination overall. I expect old fans of the Salt Lake Stallions to enjoy this combo.
Score - 8
Uniforms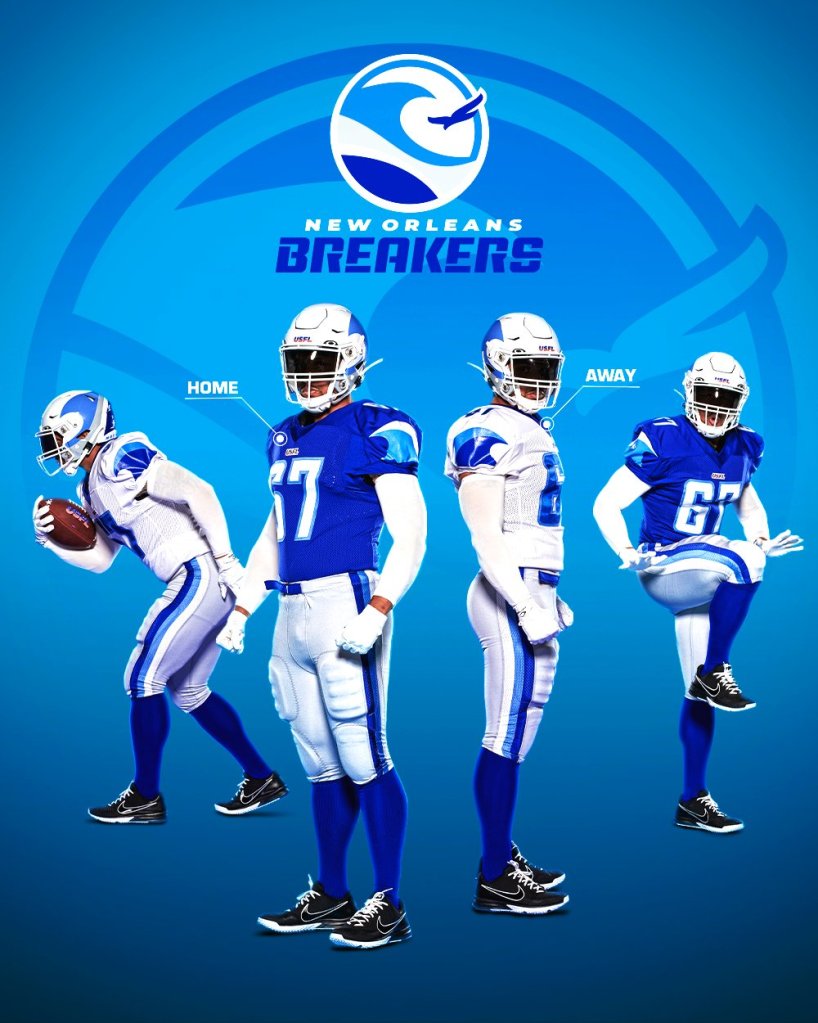 Let me start with what I like: the pants stripe! The royal-breaker-white striping looks great on the silver pants. But what I don't like is pretty much everything else. The 80s Breakers had a GREAT helmet that really didn't need to be tweaked at all. This revamped and modernized design is lacking in character. Also, wtf is happening with those sleeves? It looks like a stripped down version of the Tulane wave with no fun attitude.
Score - 3
Retro-Future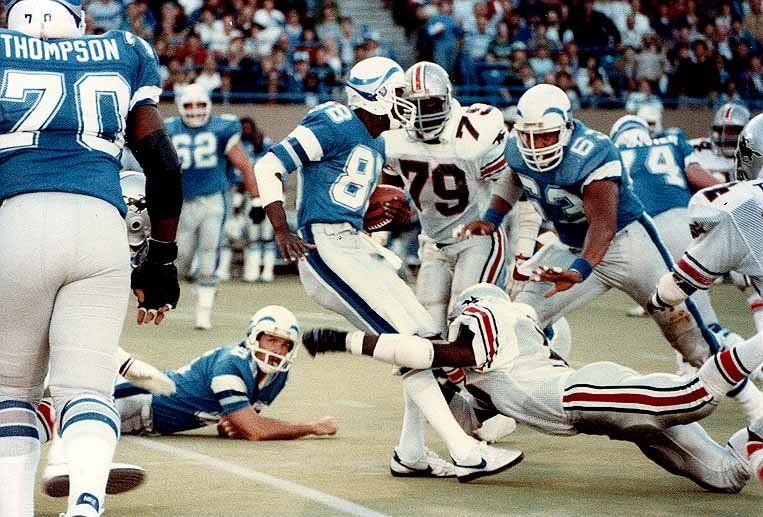 I'm really annoyed with the way they handled the Breakers. Their old uniforms were classic and really didn't require much of anything. The leg stripes would've been a welcome addition, but those helmets should not have been changed at all. I also strongly prefer the light blue jerseys to the royal, so I'm docking points for that. This is like when you bring something back from Pet Semetary. You expect one thing and get something entirely different and awful.
Score - 1
Total - 24 out of 50
Slightly under totally mediocre. Good job, fools. Without the interesting factor on the name, this team probably doesn't even crack the 20s.